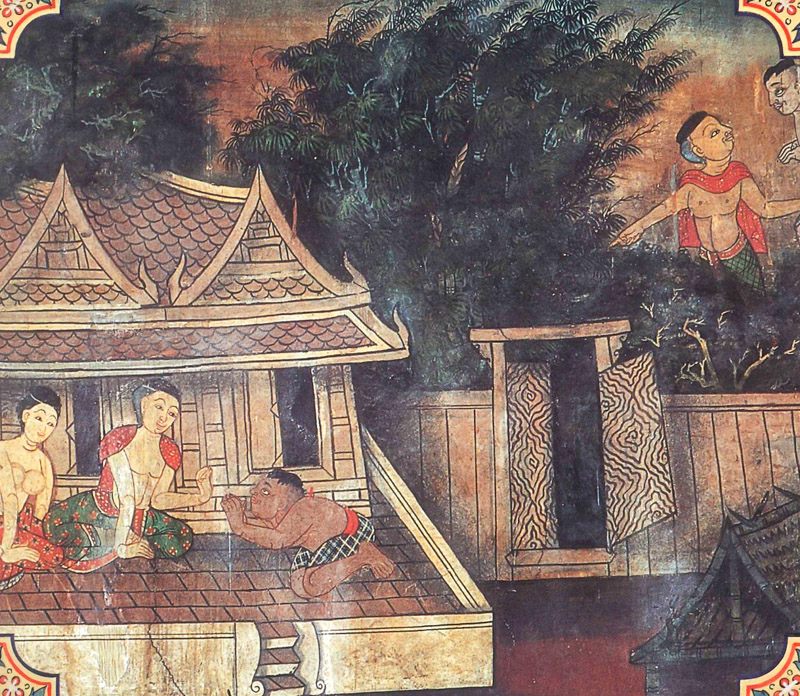 The Bodhisatta was once a royal treasurer. On the same day the Bodhisatta's son was born, one of his slaves also gave birth to a son. The two boys grew up together, and the Bodhisatta allowed the slave boy to get an education.
When the slave boy came of age, the Bodhisatta employed him as his private secretary. The slave knew that any mistake he made would not be forgiven—he would be beaten, imprisoned, branded, and fed slave's food—so he came up with a plan to leave the city and live free. He forged a letter to a merchant living out at the border saying he was the royal treasurer's son and had been sent there to unite the two families by marrying the merchant's daughter. Since the letter had the official seal and the slave came in handsome dress and with perfumes and other appropriate gifts, the plan worked. The merchant believed he was the treasurer's son and he gladly gave his daughter to the slave, who then lived a life of luxury.
The Bodhisatta sent a young pet parrot to search for his slave, and eventually he found him. The parrot saw the slave picnicking with his wife on a boat stocked full of fancy food and adorned with flowers and perfumes. The people of that region drank milk with a pungent drug to ward off the cold, and when the slave tasted it, he spit it out on his wife's head.
The parrot, sitting on the bough of a fig tree, saw this and scolded the slave, telling him to remember who he really was and warning him that soon he would be caught. The parrot flew back home and told the Bodhisatta what he had seen. The Bodhisatta sent his men to bring his slave back, and he was then treated as a regular slave.
In the Lifetime of the Buddha
The slave was an earlier birth of one of the Buddha's disciples who boasted about his wealthy, noble upbringing. It was later discovered that these stories were all lies. When the Buddha heard other disciples discussing their conceited, dishonest brethren, he told this story so they knew that this disciple had been the same way in the past.