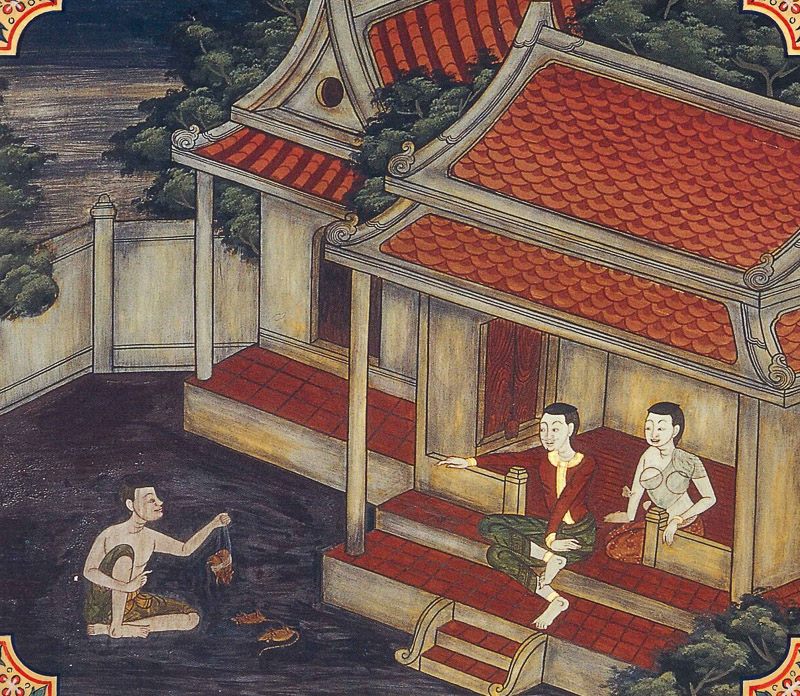 The Bodhisatta was once a royal treasurer. He had an innate understanding of signs and omens. One day, when he saw a dead mouse along the road during a special position of the stars, he remarked out loud, to no one in particular, that anyone who took the mouse would have good luck starting a business and finding a wife. A poor young man with a good heart overheard these words and, knowing that the Bodhisatta was a wise man, picked it up and promptly sold it for one farthing to a tavernkeeper as cat food. And this set up a series of events that would prove the Bodhisatta's prediction.
The young man used his farthing to buy molasses that he gave, along with drinking water, to some flower gatherers in exchange for some of their flowers. He sold these flowers and the next day bought a larger batch of molasses. This time, the same people gave him flowering plants, which he quickly turned into eight pennies profit.
Later on, a storm blew down leaves and rotten branches all around the king's palace. It was far too much work for the gardener to manage by himself, but the young man agreed to remove it all if he could keep everything, and the gardener happily agreed. He got children from a playground to help him gather the debris by offering them molasses. When it was all piled up in front of the palace, the royal potter, in need of fuel for his kiln, passed by and bought it for sixteen pennies plus some pottery.
Then the young man took a jar of drinking water to serve five hundred grass cutters working near the city gate. Appreciative of his deed, they asked the young man how to repay him and he said he would return soon to ask a favor from them. He had also become acquainted with a wealthy merchant in the town, and this man informed him that a horse dealer would arrive tomorrow with five hundred horses to sell. The young man went back to call in his favor with the cutters and they gave him a bundle of grass and agreed to delay selling any of theirs until he had sold his first. When the horse dealer arrived, he had no choice but to buy grass from the young man at the premium price of one thousand coins.
A few days later, his merchant friend informed him about a large ship arriving in port, and the young man made another plan. He hired a fancy carriage to make a grand entrance at the port, where he convinced the ship's owner to sell him all its cargo on credit. Other merchants arriving later to buy from the ship were told the goods were no longer for sale. But the young man, presenting a facade of power, had them escorted into his pavilion by three successive ushers to meet with him. There, each of them agreed to buy a share in the ship, and the young man earned a fast two hundred thousand coins.
Now a very wealthy man, just four months after picking up a dead mouse, he went to see the Bodhisatta and expressed his gratitude by giving him one hundred thousand coins. After hearing the entire story, the Bodhisatta was so impressed by the young man that he took him into the family by marrying him to his daughter. And after the Bodhisatta died, the young man replaced him as royal treasurer.
In the Lifetime of the Buddha
The young man was an earlier birth of a disciple of the Buddha named Little Wayman. Little Wayman's mother was the daughter of a wealthy merchant, and when she fell in love with a slave, the couple had to run away to another city because their relationship was unacceptable. When she got pregnant, she decided to return to her parents' home and hope for forgiveness. Her husband reluctantly agreed to go with her, but kept putting off their departure until she was nearly ready to give birth. Finally, she left on her own.
When the husband returned home and found that his wife had departed, he hurried down the road after her. And just as he reached her, she went into labor. A son was born and they named him Wayman since he was born along the way. They returned home rather than go see her parents. Soon after, she got pregnant again and everything happened exactly the same; the second son even got the same name.
As the children, called Great Wayman and Little Wayman, grew up, they heard their friends talk about their relatives, so they asked their parents about their own. They began to beg to meet them and their parents agreed to take them. When they reached the city, they sent a message announcing their arrival. The woman's parents replied that they would never forgive her or her husband. But the children were innocent, so they were invited to come live a better life with them. The children's parents were given some money and sent away back to their home.
When Great Wayman was old enough, he became a disciple of the Buddha. He studied intently and eventually became an arahant. Later, he invited his younger brother to join him. But Little Wayman was very stupid, and after four months of faithful intent and effort, he had not even managed to master a single small section of text. Seeing how bad things were, Great Wayman expelled his little brother from the sangha and disinvited him from a gathering that was to be held the next morning at the home of Jivaka, a renowned doctor and dedicated lay supporter of the Buddha.
Little Wayman cherished dharma and did not want to leave, but he knew that his brother was right. The Buddha divined Little Wayman's situation and knew his struggle in understanding had nothing to do with his present circumstances; rather it was a result of bad karma earned in a past life for mocking another person who was struggling to learn scripture. So, early the next morning, the Buddha waited near Little Wayman's quarters. When he came out to start his journey home back to lay life, the Buddha said he would help him. He materialized a perfectly clean cloth and told Little Wayman to sit and handle it continuously while repeating, "Removal of impurity." While Little Wayman did as he was told, the Buddha left to attend that morning's gathering.
Not long after starting with the cloth, Little Wayman noticed it had become dirty, and he instantly understood that all things are impermanent, that death and decay are inevitable. The moment it happened, the Buddha perceived that Little Wayman had reached a breakthrough and he sent an apparition of himself to preach that the evil impurities of lust, anger, and delusion were still in his mind, and removal of these would bring salvation. Suddenly, Little Wayman went from not knowing a single verse to full arahantship.
Meanwhile, Jivaka was about to begin a "water of donation" ceremony, but the Buddha stopped him and asked whether any disciples were back at the monastery. Great Wayman said there were not, but the Buddha corrected him and Jivaka sent one of his servants to check. Little Wayman, wanting to send a message to his brother, multiplied himself a thousand times and had these visions fill the whole mango grove where he sat. After the servant reported what he saw, the Buddha sent him back to tell Little Wayman to come. But when the servant asked for Little Wayman, all one thousand replied. Again the servant reported to the people at Jivaka's home what had happened, and this time the Buddha told him to bring back the first one claiming to be Little Wayman; he would be the real one. This time, the servant returned with Little Wayman, and the Buddha had him perform the ceremony with Jivaka.
Later in the day, the Buddha heard some of his disciples discussing what had happened that morning. He told them this story to explain that while Little Wayman had risen to great faith in this life, in a previous life he had risen to great wealth—in both cases by following the Buddha's advice.